Instead of medals, wear this stylish pendant anywhere you go
Whether you ran a full marathon or your first 5k, get these mementos as a reminder of what you achieved!
You can wear our running pendants anywhere you go. They look great with any outfit, so whether you go to work, out for a run, or to a social gathering with your friends, a small accessory like this will always look great!
All pendants are high-quality and durable
A great accessory that will last forever
Our high-quality zinc alloy material looks great and never produces any discoloration like other inferior products. And because of the 45cm long necklace, the pendant itself (2cm * 2.3cm) will look not too big, not too small - but just perfect on you!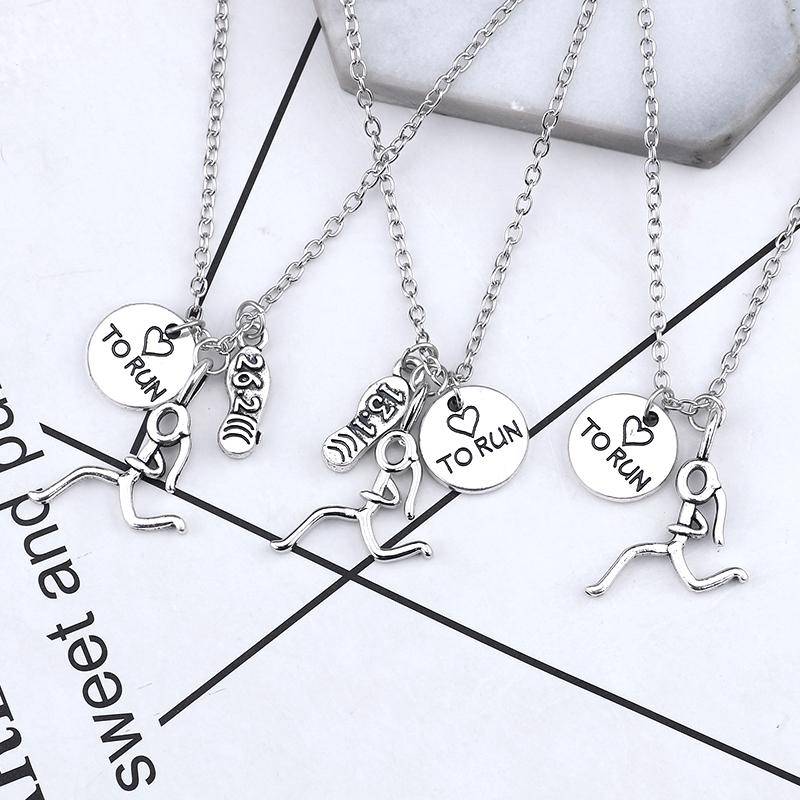 Frequently Asked Questions
No. This product is not fragile (as pictures may suggest), and the material is hard to destroy.
Does it come with a chain?
Yes, each pendant comes with its own necklace. However, not with the blue box.
I made a mistake ordering the right pendant, can it be changed?
Absolutely! We're here to help. If you make a mistake during the order process just let as know as soon as possible so we can correct it before the items are shipped out.
Fabulous
I sent 4 of these, with varying charms, as gifts. Each of my friends loves them :)
- Adrian G.
Running charm necklace
Running charm necklaceLove it! Bigger than I thought it was going to be
- Mrs. B.
Really lovely
Bought as a present for my friend. She loves it. Great way of celebrating a shared memory.

- Victoria T.
Very nice
Very nice necklaces for the money

- Amy H.
Great little product
I completed the London Marathon and wanted something I could wear and be proud of at all times, I saw the pendants on Facebook and thought they looked excellent, I ordered one and it didn't take very long to come, I was pleasantly surprised that it came on a chain as it is advertised as pendant. I absolutely Love it and wear it all the time... It's a lot easier to wear than the medal and a lot less painful than a tattoo! When my daughter does her first 10K in August I know what I will be buying for her. :-)

- Suzi
10k charm necklace
I did a 10k last year you could do 5k or 10k I was gutted when I received the same medal as everyone most only doing 5k, so i bought two of these for my sister and me to attach to our medals this year. Thanks x

- Trish